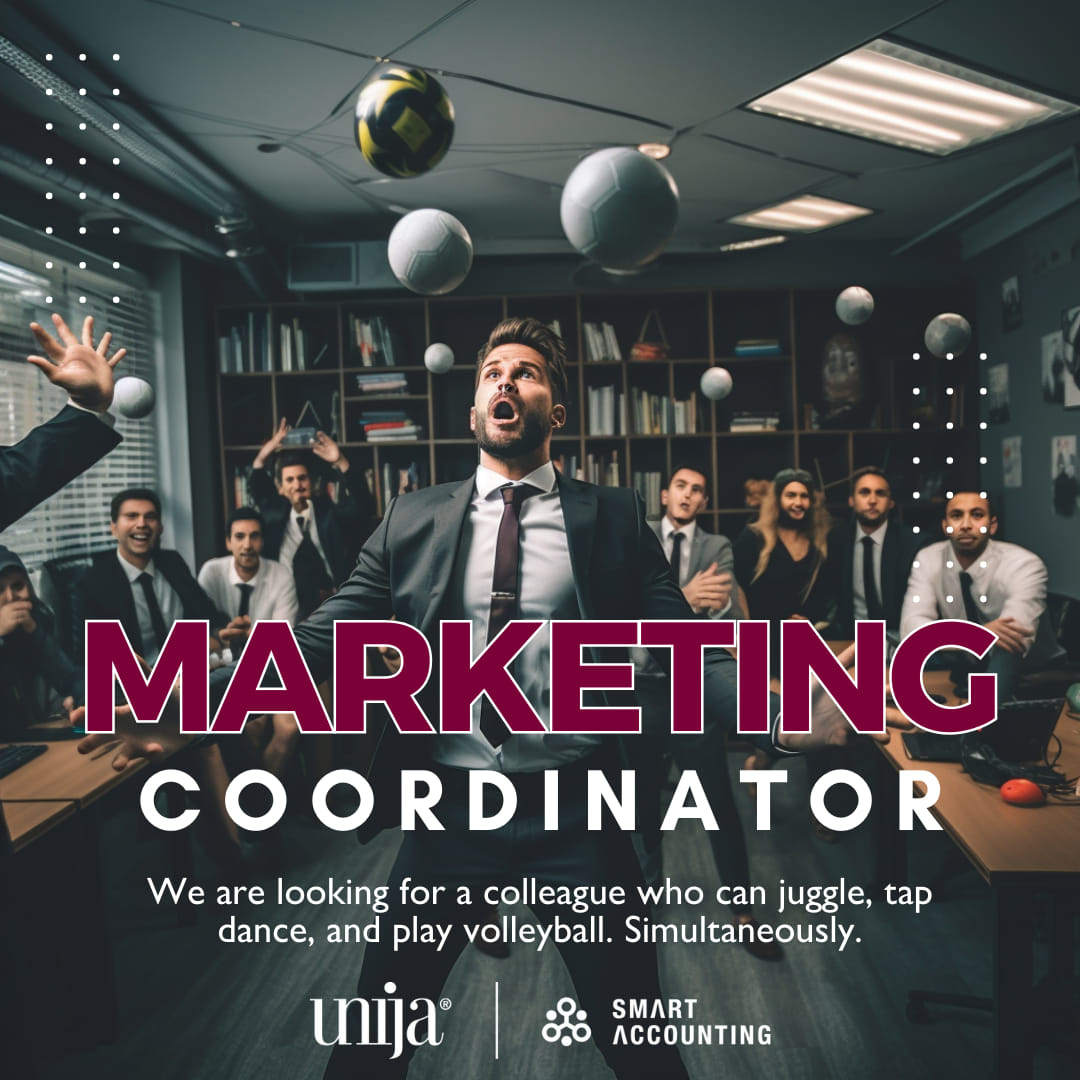 We are looking for a colleague who can juggle, tap dance, and play volleyball. Simultaneously.
We believe that if you can do all of this at once, multitasking in our marketing department will be a breeze for you. Can't do it all at once? Neither can we. Reach out to us anyway, we will still be delighted to have you. We'll help you quickly find your rhythm, and our well-established training system will help you maintain your professional edge. Oh, and if tap dancing or volleyball really suits you, you'll certainly excel at our international sports games and social gatherings. And you'll excel at juggling too.
ABOUT US
Unija Smart Accounting is an international accounting firm that provides high-quality accounting, consulting, and advanced IT solutions. Our clients are leading international and local companies that demand top-notch and reliable support. Our employees are top experts in their fields, and with regular, systematic education, we ensure that they stay that way. Our ambition is to provide an inspiring work environment and a high business culture.
JOB DESCRIPTION
As a marketing coordinator, you will be responsible for overseeing and maintaining our website, as well as managing our social media platforms.
Your work will also include:
Creating content in both local and English language for promotional purposes
Planning and executing internal and external events
Keeping track of trends and innovations in the field of digital marketing and recruitment
Collaborating with the regional marketing team and communicating with other company departments
BENEFITS
Employees of the Unija Group enjoy numerous benefits that allow us to grow professionally and personally. This enables us to better care for quality of our work, improve relationships, and make work more enjoyable. We offer all our employees:
Systematic care for professional development and advancement opportunities
Personal annual budget for education
Participation in annual international regional sports games
Organized trips, excursions, and social events
Birthday leave
Occasionally, you can work in any Unija unit in the region, from Sarajevo, Ljubljana and Zagreb to Belgrade and Podgorica, even in Tivat
SPECIFIC BENEFITS OF YOUR POSITION
Hybrid work arrangement after a 6-month probationary period (2 days office, 3 days remote)
Flexible working hours
WHAT WE EXPECT
A minimum of 3 years of work experience in the field of marketing
Creativity, proactiveness, and a keenness for learning
Effective communication skills, both written and verbal
High level of responsibility and organizational proficiency in task completion
Teamwork sensibilities and the ability to independently handle job responsibilities
Knowledge of technical requirements in marketing production, essential for competent communication with media and creative content creators
LOCATION
Marketing Coordinator position is located in one of our offices in Slovenia, Croatia, Bosnia and Herzegovina, North Macedonia and Montenegro.
APPLICATION
If you see this role as an interesting career challenge, and want to work with us, we invite you to send us your CV to e-mail: [email protected].
Izvor career.unija.com
(Visited 194 times, 1 visits today)
Comments