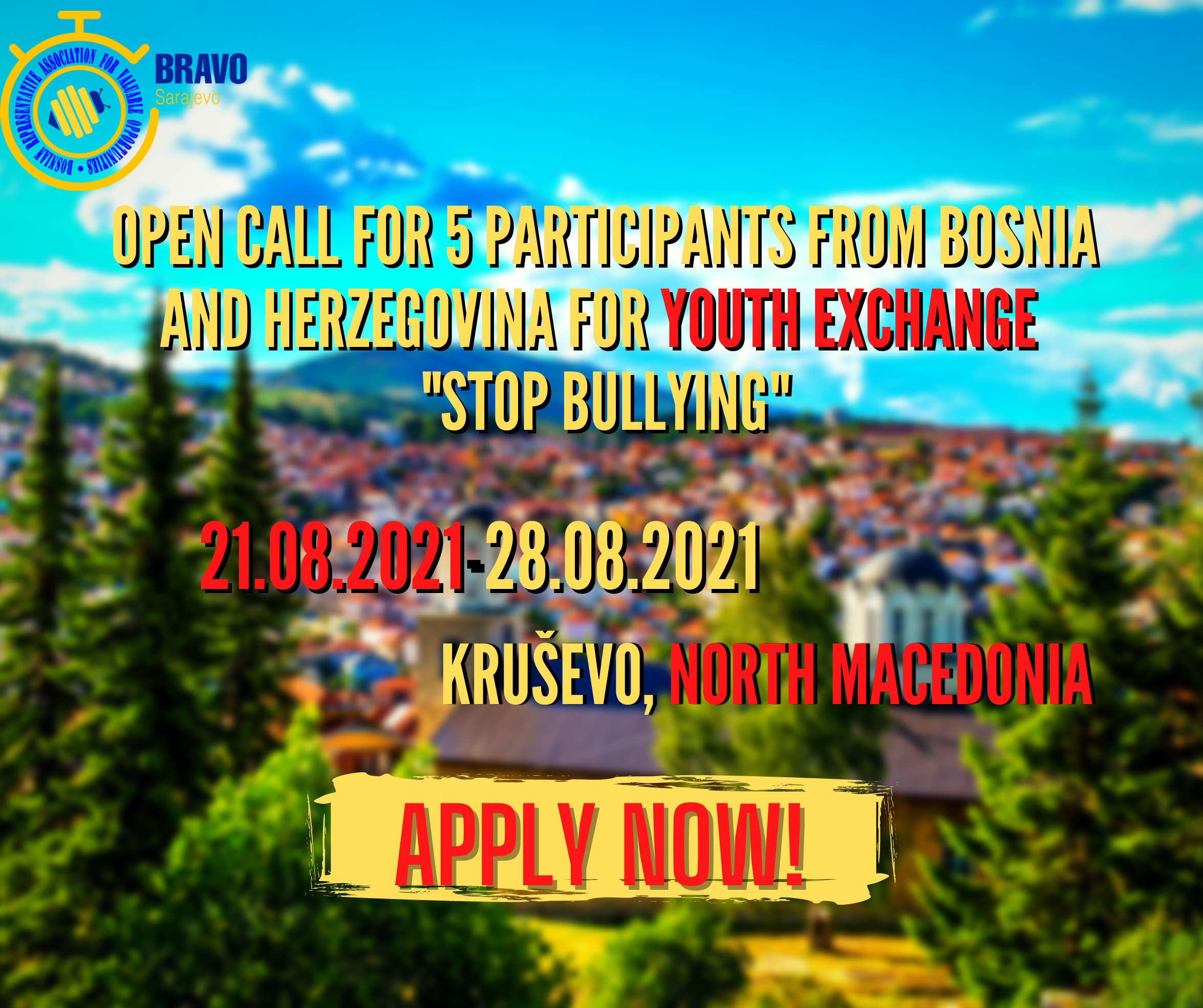 Name of the project: "Stop bullying"
Date of Project: 21.08.2021 – 28.08.2021. (6 months)
Hosting organization: "Associoation for advanced contemporary education Volvox – Bitola"
Sending organizations: "BRAVO"
Place: Kruševo, North Macedonia
Participants age: 18 – 30
The number of participants : 4+1
Working language: English
Deadline for applying: 25.07.2021.
This project is financed by the European Commission through the Erasmus Plus Program. This publication reflects the view only of the author, and the European Commission cannot be held responsible for any use which may be made of the information contained therein. By Erasmus+ rules organizers will cover travel costs, accommodation and food. As part of ESC you will have provided accommodation, food, pocket money and paid local transport.
This youth exchange will answer all questions as well as many others that are important to stop bullying people, especially to children and young people.
Schools and social networks are where bullying is most prevalent. In school desks and yards, between classes, on long breaks, but also outside educational establishments – swearing, beatings, humiliation, and ridicule from their peers. Peer violence is a daily occurrence, but there is little talk about it. Тhe phenomenon of bullying has an increasing incidence, the danger coming from its false impression of normality, most people accepting it as a common component of everyday life. Bullying does not only involve physical violence and does not always occur in the eyes of teachers, so opportunities for action are limited. Children and young people who are victims of violence from their peers can have serious and lasting effects on their mental as well as physical health. In the worst case, long-term bullying can also end in suicide for victims. The sooner the abuse is prevented, the better it will be for the victim, but the authorities believes that the system does not recognize the signs of bullying and that the authorities are responding when it is too late.
With the realization of this youth exchange, greater emphasis will be given to the youth people who will take part in the activities will expand the knowledge they will acquire, and thus will reach and will raise
Awareness of many other young people. They will learn that bullying is often considered a form of physical or psychological violence, and has some different root causes than other types of violence, and also may require different prevention strategies. Participants will understand how to compare bullying vs violence.
The objectives of the project are:
 To understand what bullying behavior may look like and how to take measures to prevent all forms of bullying
Improving strategies and responses to incidences of bullying that will address the causes of bullying and help avoid any recurrence
To learn to use specific strategies for addressing, reporting, and following up on bullying behavior when it occurs
Recognize the significance of bystanders in a bullying episode knowing how to intervene in bullying behavior when  it occurs;
knowing how to follow up and report on bullying behavior;
knowing how to make positive choices when witnessing or having an experience of bullying;
(Visited 215 times, 1 visits today)
Comments