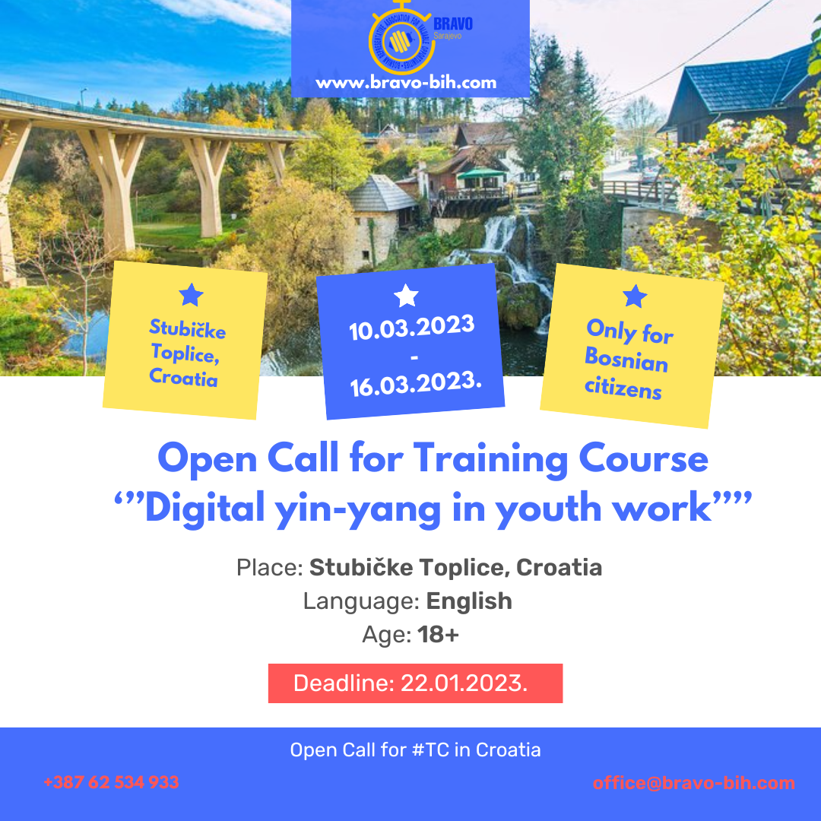 Name of the project:  Training Course ''Digital yin-yang in youth work''
Date of Project: 10.03.-16.03.2023.
Hosting organization: HUKI
Sending Organization: "BRAVO"
Place:  Stubičke Toplice, Croatia
Participants age: 18+
The number of participants: 4
Working language: English
Deadline for applying: 22.01.2022.
Digital yin-yang in youth work" is a 5 days long training course in Croatia focused on increasing the awareness of experts about the importance of creating a yin-yang, a balance of online and offline activities for young people, and to offer them an opportunity to create a strategy by which this can be done.
While having a rationally critical assessment of the digital world, participants will work on finding a way of how to combine modern technologies in their youth work in a way that would benefit the young people they are working with, while reducing potential harm to the minimum.
With the project, we want to tackle the questions: "How do online activities affect young people?", "What is the best ratio of online and live activities?", "How to use digital tools in a way that complements live activities instead of replacing them?", "Which digital tools to use and how?"
More info here.
(Visited 75 times, 1 visits today)
Comments