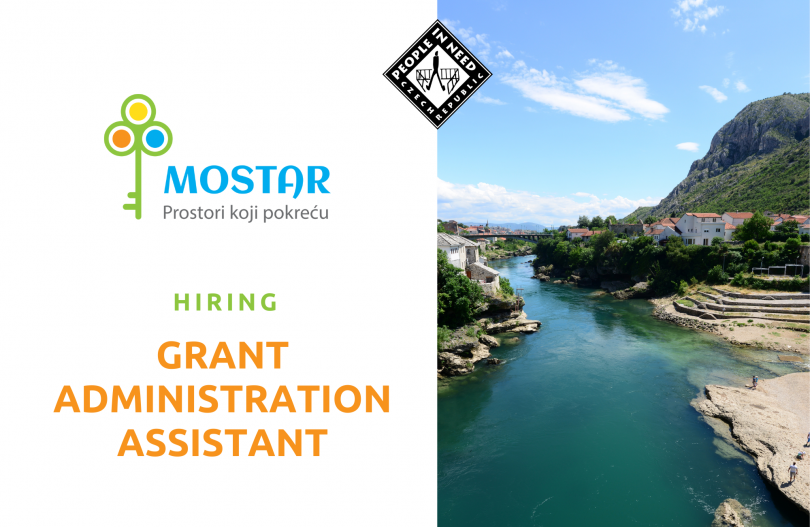 Position: Grants Administration Assistant
Starting date: July 1, 2022
Duration: 10 months
Country Programme: Bosnia and Herzegovina
Place of Work: Mostar, Bosnia and Herzegovina
Line Manager: Grants Coordinator
Please note his position is open for citizens of BiH or those with valid work permits.
About the Western Balkans Programme of People in Need:
People in Need started working in former Yugoslavia in the early 1990s to deliver humanitarian aid and has remained in the region since to support the region's social and economic reconstruction and development. Since the late 2000s, PIN has been working with local organizations to promote social inclusion and good governance at the local level. More information is available on PIN's website, www.peopleinneed.cz.
Position Summary
In August 2021, PIN launched a project titled "Mostar" to improve the use of public space and public discourse in the City of Mostar. PIN is leading a consortium of international and local organizations that includes Everyday Peace Indicators, LDA Mostar, OKC Abrasevic, and Nesto Vise to implement the project. The project has a sizeable small grant scheme component for civil society, youth, and other actors working toward positive change in the City of Mostar.
Under the direct supervision of the Grants Coordinator, the Grants Administration Assistant will support the PIN project team, in tasks related to awarding and administering grants, including ensuring that grant recipients are in compliance with PIN's regulatory framework.
Duties and responsibilities:
Assist with collecting, reviewing, and verifying all financial and compliance-related documentation from grant recipients.
Assist Grants Coordinator in tasks related to organizing public calls and other pre-award administrative tasks.
Liaise with grant recipients on a regular basis to ensure timely and accurate submission of all required documentation; seek and verify corrective action from grant recipients.
Assist the Mostar project team in monitoring implementation of grant recipients' activities, including through field monitoring visits to the grant recipients' activity locations.
Maintain and archive accurate and timely records (activity reports, receipts/invoices, means of verification, etc.) of all grant recipients' activities.
Assist with collecting and analyzing data related to grantees.
Ensure that the grant folders are complete and up to date, under the guidance of Grants Coordinator.
Support the procurement process by collecting and/or verifying relevant bids.
Provide logistical support to organize info days and grant's schemes relevant events.
Perform other duties as required.
Suitable candidates for this position should possess:
Minimum 2 years of experience administering grant schemes to local organizations.
Experience working for a development and/or humanitarian organization (NGO) will be a strong advantage.
Excellent communication skills, including fluent spoken and written English, and official languages of BiH.
University degree in social sciences, finance, or another related field desirable.
Ability to proactively address potential issues.
Ability to form and maintain relationships through team work and networking.
Knowledge in MS Office software packages (MS Excel, Word, Outlook, etc.).
People in Need offers:
Working environment in a well-established and growing humanitarian and development organization.
Salary and benefit package according to PIN BiH Salary Scale and HR policies.
21 days of paid leave for the period of work engagement.
Accident and travel insurance and free medical helpdesk.
E-learning courses, webinars, training possibilities.
Are you interested in this position? Send us your CV and short cover letter in English via this application form. Please note only the shortlisted candidates will be contacted. Interviews will be conducted on rolling basis and the vacancy will be closed when filled.
(Visited 96 times, 1 visits today)
Comments