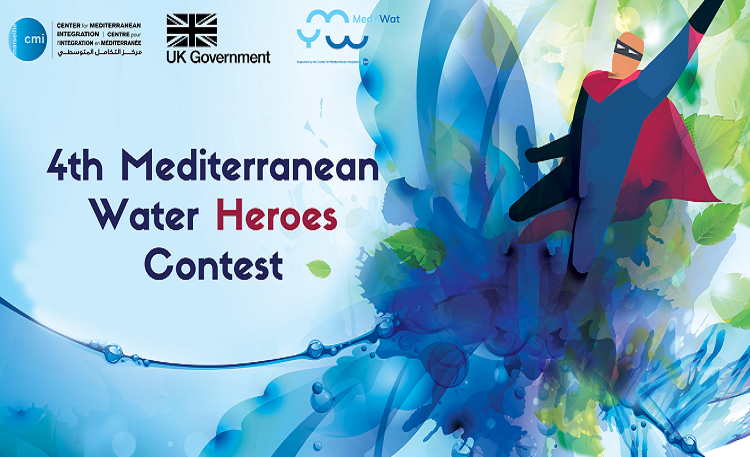 The Center for Mediterranean Integration (CMI) is currently seeking applications for  Fourth Mediterranean Water Heroes Contest on "Water and Climate Change".
The Center for Mediterranean Integration (CMI) is leading the contest with funding from the UK Conflict, Stability and Security Fund (CSSF) and in collaboration with its Water Hub partners (The International Water Management Institute (IWMI), International Center for Water Management Services (CEWAS), French Development Agency, German Development Agency, European Investment Bank, CIHEAM, World Bank, Plan Bleu) and the CMI-supported Mediterranean Youth Water network (MedYWat).
Young people are involved in innovative water-related projects and research around the Mediterranean and are key to securing a more sustainable water future in the region, and has an essential role to play in creating a more inclusive Mediterranean for migrants and refugees.
The Center for Mediterranean Integration (CMI)
The Center for Mediterranean Integration (CMI) is a space where development agencies, Governments, local authorities and civil society from around the Mediterranean convene in order to exchange knowledge, discuss public policies, and identify the solutions needed to address key challenges facing the Mediterranean region.
Thematic Areas
Applicants are invited to submit their innovative work around the following themes:
Water and Climate Change Policies;
Water Scarcity and Drought Management Best Practices;
Water Security Migration Nexus;
Water and Circular Economy (entrepreneurship).
Prize Information
Contest prizes will be announced during the World Water Day 2020;
In addition to the prizes, the selected contest winners will be offered a speaking role in the different World Water Day 2020 workshop sessions in Murcia, Spain as well as:

Connection with international water and migration experts and young water professionals:
Visibility: Showcasing your work on the online channels of the Center for Mediterranean Integration and its partners;
Mentoring: Peer-to-peer mentoring with other Mediterranean water activists and experts.

Other selected participants will also be invited to participate in the workshop in March 2020.
Eligibility Criteria
Young people aged 18 to 35 and working and/or studying the water sector in the Mediterranean;
Regardless of their place of residence, applicants must be nationals from one of the following Mediterranean countries: Albania, Algeria, Bosnia and Herzegovina, Croatia, Cyprus, Egypt, France, Greece, Italy, Jordan, Lebanon, Libya, Malta, Morocco, Montenegro, Palestinian Territories, Portugal, Slovenia, Spain, Syria, Tunisia and Turkey;
Applications from Libya, Algeria, and Egypt are strongly encouraged;
Applicants may be active within public institutions, research institutes, start-ups, NGOs, or are freelancers.
The official languages of the contest are English and Arabic.
Selection Criteria
Only completed applications will be taken into consideration. Water-related projects and research will be assessed according to the following criteria:
Regional relevance and reproducible;
Innovative value;
Environmental, social and economic impact;
Youth involvement;
The overall quality of the application.
How to Apply
Applications must be submitted electronically in English or Arabic via given website.
For more informations, please visit this site.
Deadline: 15 December 2019
(Visited 215 times, 1 visits today)
Comments